Pack NATURE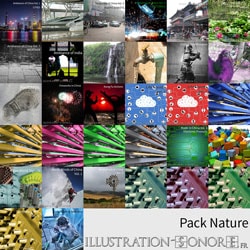 From Musicec Sound Effect Library
Contenu : Ce pack comprend 6 volumes.
- Ambiance of China Vol. 6 & 7
- Asian Taste: Water Vol. 1 & 2
- North Winds of China Vol. 1 & 2
Plus de 13 heures d'ambiances de nature Chinoise.
Démo mp3 :
Description : Ambiances typiques et variées de natures de différentes forêts et villages chinois. La collection des sons d'eau et de liquides qui correspond au goût chinois et asiatique, et celle des vents glaciaux du nord de la Chine à XinLin HaoTe dans les montagnes volcaniques enneigées à 1000 m d'altitude, les lacs gelés et les prairies sous -15°C en hiver. Tous les sons sont parfaitement enregistrés et traités pour une utilisation cinéma. Tous sont assez longs et variés pour faire d'excellentes boucles pour des films ou des jeux.
Contenu du Pack
454 fichiers (Wave 96kHz/24bits)
Vendus séparément, ces volumes coûteraient 540 €. Economisez 162 €.
Bon plan : Découvrez d'autres Packs et économisez jusqu'à 60% sur votre achat.
Important : A la fin du processus de paiement Paypal vous serez redirigé vers un formulaire pour obtenir votre loggin et votre mot de passe afin de télécharger les fichiers en toute sécurité.
L'achat de nos produits sur ce site implique l'acceptation de nos conditions générales de vente.