Tools & Industry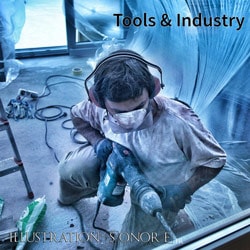 From Musicec Sound Effect Library
Contents: Nail machine, drills, paint sprayers, staplers, boxes, chains, gears, saws, spanner, trashcan, construction, mixer.
Mp3 demo:
Description: Sounds of various equipment in daily life. This volume contains both reverb and dry sound at a very short distance. Different microphone techniques and methods were used to record these varied materials. All multiple types and multiple takes.
Volume Contents
89 files (Wave 96kHz/24bits)
Get a Deal: Buy this volume in a Pack and save up to 60% on your purchase.
In order to download, make your payment via Paypal, at receipt, you will receive a confirmation e-mail supplying you with a link, a login and a password.
Purchase of our products means acceptance of our General Conditions of Sales.