Micro World Signals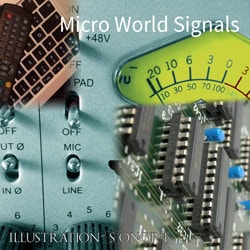 From Musicec Sound Effect Library
Contents: Beeps, codec, data processing, flowing, detectors, drones, fax, interface, network, phones, telemetry.
Mp3 demo:
Description: Here, the invisible signal sounds that fill the world at every moment. All these materials were recorded in the real world. Magnetic radius, satellites, network, USB cable, optical box, Wi-fi, running data with/without doppler FX, encoding, decoding data, drones, cellphones, GSM, fax, detectors, telemetry.
Volume Contents
411 files (Wave 96kHz/24bits)
Get a Deal: Buy this volume in a Pack and save up to 60% on your purchase.
In order to download, make your payment via Paypal, at receipt, you will receive a confirmation e-mail supplying you with a link, a login and a password.
Purchase of our products means acceptance of our General Conditions of Sales.