Made in China Vol. 2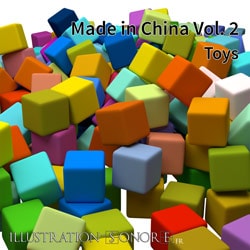 From Musicec Sound Effect Library
Toys
Contents: Toy auto beatle, springpower, F1 plastic gearpower, hummer iron, mini batpower, police car, minicar engine, tanker, motor ironman, baby bicycle, bamboo crocodile, snake, tortoise, revolver, machine gun, rifle, lady bug, monkey, pistol, bugle, birdwhistle, rocket, scorpion, robot, spider, mechanical rabbit drummer, train.
Mp3 demo:
Description: Over 20 kinds of springs and battery powered cars and toys, guns, tubes, blocks. And Chinese traditional toys like bamboo snakes. All possible sounds from them are captured. So they can also be used for Sci-fi, creatures and CG FX. All collected and cleaned up multi takes.
Volume Contents
278 files (Wave 96kHz/24bits)
Get a Deal: Buy this volume in a Pack and save up to 60% on your purchase.
In order to download, make your payment via Paypal, at receipt, you will receive a confirmation e-mail supplying you with a link, a login and a password.
Purchase of our products means acceptance of our General Conditions of Sales.