Materials Vol. 4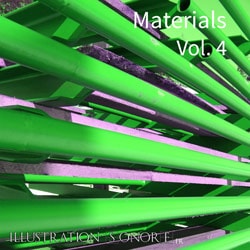 From Musicec Sound Effect Library
Contents: Metal sheet, Metal bar, saw, slide, friction squeaks, slices, swish, rolls, hits, drops, ironring, trashcan.
Mp3 demo:
Description: The fourth volume of original sounds from materials in multiple types and multiple takes. Different microphone techniques were employed to record these various materials, giving extraordinary results as compared to what is available in other FX libraries. These sounds function perfectly in Special FX, Sci-fi, soundscape as well as in basic sound effect issues. Such variation in the sounds produced with these materials is unavailable elsewhere.
Volume Contents
271 files (Wave 96kHz/24bits)
Get a Deal: Buy this volume in a Pack and save up to 60% on your purchase.
In order to download, make your payment via Paypal, at receipt, you will receive a confirmation e-mail supplying you with a link, a login and a password.
Purchase of our products means acceptance of our General Conditions of Sales.