Life Sounds Vol. 1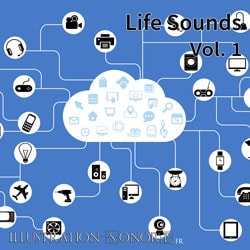 From Musicec Sound Effect Library
Contents: Chair office falls, squeaks, rolls, wood desk swish, slide, write, wooden doorknock, hit, lock, slide, drawer, glass bottle, Nescafe, cola can, scratches, scrub, ring, glasswindow, plate glass, glass wall, cup, ice scraper, crap, glitch, break, frags.
Mp3 demo:
Description: The first volume of small material sounds from daily life, offered in multiple takes. Excellent sources for making Sci-fi, CG FX or musical FX. All multiple types and multiple takes. These materials are often applied in games and movies in post-production.
Volume Contents
401 files (Wave 96kHz/24bits)
Get a Deal: Buy this volume in a Pack and save up to 60% on your purchase.
In order to download, make your payment via Paypal, at receipt, you will receive a confirmation e-mail supplying you with a link, a login and a password.
Purchase of our products means acceptance of our General Conditions of Sales.