Kung Fu Actions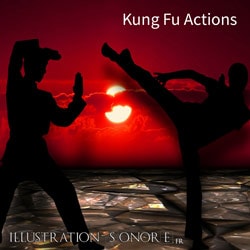 From Musicec Sound Effect Library
Contents: Different weapon swishes, whoosh, scratch, smash, impacts of bodies (armor and clean), bone breaks, hit, cloth, bathtowel, pants, bloody materials.
Mp3 demo:
Description: Real Chinese Kung Fu actions and impacts have never been reproduced in a professional SFX lib before. All multiple types and multiple takes. From both real actions and special foley. Chinese Kung Fu tends not to exhibit straight, fierce actions and impacts. The fights showcase bodily skills and self-control as was shown in the movie Crouching Tiger Hiding Dragon. While the impact and body punch sounds highlight these qualities, there are also some heavy and bloody sounds typical to Hollywood movies, but especially good for Kung Fu fights.
Volume Contents
466 files (Wave 96kHz/24bits)
Get a Deal: Buy this volume in a Pack and save up to 60% on your purchase.
In order to download, make your payment via Paypal, at receipt, you will receive a confirmation e-mail supplying you with a link, a login and a password.
Purchase of our products means acceptance of our General Conditions of Sales.