Chinese Cold Weapons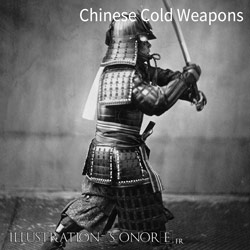 From Musicec Sound Effect Library
Contents: Impacts, slides, friction, drops and pulling out/putting in of sabers, swords, daggers, fist, lupine axe, spear, whip, rod, weapon shells.
Mp3 demo:
Description: Cold weapons in Chinese history are quite different with the Western. For example the Sword: The western sword is usually more thick, longer and heavier than Chinese sword. Chinese swords are usually more soft, short and light. So they are more handy, skillful, rapid and sharp. And also fists, fingers and even lupine are very typical Chinese cold weapons in the culture.
Volume Contents
304 files (Wave 96kHz/24bits)
Get a Deal: Buy this volume in a Pack and save up to 60% on your purchase.
In order to download, make your payment via Paypal, at receipt, you will receive a confirmation e-mail supplying you with a link, a login and a password.
Purchase of our products means acceptance of our General Conditions of Sales.