Ambiance of China Vol. 3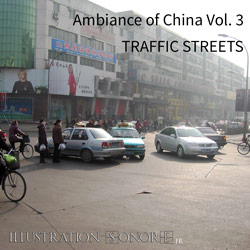 From Musicec Sound Effect Library
Traffic Streets
Contents: Busy city traffic and quiet spots in Hangzhou, Shanghai and Chengdu: close, distant, tunnel, highway, market, night.
Mp3 demo:
Description: Typical Chinese ambiances of traffic from a variety of cities and villages at different times of the day. They are well-recorded and treated for movie issues. All long enough and of various types to make excellent loops for films or games.
Volume Contents
46 files (Wave 96kHz/24bits)
Get a Deal: Buy this volume in a Pack and save up to 60% on your purchase.
In order to download, make your payment via Paypal, at receipt, you will receive a confirmation e-mail supplying you with a link, a login and a password.
Purchase of our products means acceptance of our General Conditions of Sales.