Pack SYNTHESIZER FX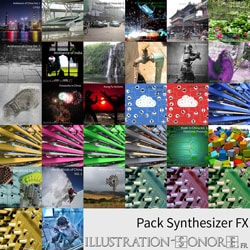 From Musicec Sound Effect Library
Contents: This pack incluses 4 volumes.
- Synthesizer FX Vol. 1, 2, 3 & 4.
More than 8 hours of Synthesiser sounds effects.
Mp3 demo:
Description: This huge series contains mostly different energy sounds, signals and UI sounds, Sci-fi sound, big whoosh and special swishes. Many rich energy types and enormous variety in their states are available. These sounds function well for physical characters e.g. transformers and equally in documentaries or for the special visual FX in games or movies. The richniess and variety in signal sounds, communications, digital and coding noises is unavailable elsewhere. These sounds will be increasingly important in your future productions. All these materials are created with analog modular synthesizers systems and are controlled by a specially-designed iPad control panel. For this reason, even transformer or robot sounds have emotional power.
Pack Contents
1185 files (Wave 96kHz/24bits)
Price (- 30%)
224,00 € HT
Sold separately, these volumes total 320 €. Here, save 96 €.
Get a better Deal: Look at the other Packs and save up to 60% on your purchase.
In order to download, make your payment via Paypal, at receipt, you will receive a confirmation e-mail supplying you with a link, a login and a password.
Purchase of our products means acceptance of our General Conditions of Sales.