Pack SOUND EFFECTS XL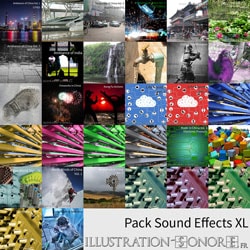 From Musicec Sound Effect Library
Contents: This pack incluses 13 volumes.
- Tools & Industry
- Materials Vol. 1, 2, 3, 4 & 5
- Footsteps.
- Chinese Creatures.
- Micro World Signals.
- Synthesizer FX Vol. 1, 2, 3 & 4.
More than 22 hours of Chinese foleys, real and synthetic sound effects.
Mp3 demo:
Description: Sounds of various equipment in daily life and original sounds from materials in multiple types and multiple takes. These sounds function perfectly in Special FX, Sci-fi, soundscape as well as in basic sound effect issues. Footsteps especially conceived for video games and cartoons. Typical characters from tiny aliens to huge monsters. Each available with a variety of emotions such as happy, angry, attack, hurt, dying. Groups of breathing and the harsh sounds of ghosts or monsters. The invisible signal sounds that fill the world at every moment are in the Micro World Signals. The huge series of Synthesizer FX contains mostly different energy sounds, signals and UI sounds, Sci-fi sound, big whoosh and special swishes. The richniess and variety in signal sounds, communications, digital and coding noises is unavailable elsewhere. These sounds will be increasingly important in your future productions. Each in multiple types and multiple takes.
Pack Contents
3264 files (Wave 96kHz/24bits)
Price (- 40%)
666,00 € HT
Sold separately, these volumes total 1110 €. Here, save 444 €.
Get a better Deal: Look at the other Packs and save up to 60% on your purchase.
In order to download, make your payment via Paypal, at receipt, you will receive a confirmation e-mail supplying you with a link, a login and a password.
Purchase of our products means acceptance of our General Conditions of Sales.