Pack NORTH WINDS OF CHINA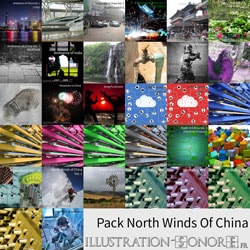 From Musicec Sound Effect Library
Contents: This pack incluses 2 volumes.
- North Winds of China Vol. 1 & 2
More than 4.5 hours of Chinesee sounds of North Winds.
Mp3 demo:
Description: The bundle of the two volumes of the cold north winds captured in XinLin HaoTe (a small city in Chinese Mongolia) Volcano hills (elevation 1000m high), frozen lakes, snowy mountains, prairies. Under -15C in winter. Very strong wind and cold. Wind turbine power plant, grand prairie, lakes, and isolated people.
Pack Contents
100 files (Wave 96kHz/24bits)
Price (- 30%)
140,00 € HT
Sold separately, these volumes total 200 €. Here, save 60 €.
Get a better Deal: Look at the other Packs and save up to 60% on your purchase.
In order to download, make your payment via Paypal, at receipt, you will receive a confirmation e-mail supplying you with a link, a login and a password.
Purchase of our products means acceptance of our General Conditions of Sales.