Pack DOMESTIC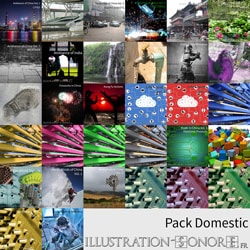 From Musicec Sound Effect Library
Contents: This pack incluses 4 volumes.
- Made in China Vol. 1 & 2
- Life Sounds Vol. 1 & 2
More than 9 hours of Electronic Products, Toys & Life Sounds.
Mp3 demo:
Description: Very tiny sounds or noises captured from a variety of home electronic products. Different DVD drivers such as Mac Book Pro laptops in the recent years. Over 20 kinds of springs and battery powered cars and toys. Small material sounds from daily life, offered in multiple takes. Excellent sources for making Sci-fi, CG FX or musical FX. All multiple types and multiple takes. These materials are often applied in games and movies in post-production. Not only perfect for creating Sci-fi sound, can be used for UI, life scene or documentary.
Pack Contents
1187 files (Wave 96kHz/24bits)
Price (- 30%)
266,00 € HT
Sold separately, these volumes total 380 €. Here, save 114 €.
Get a better Deal: Look at the other Packs and save up to 60% on your purchase.
In order to download, make your payment via Paypal, at receipt, you will receive a confirmation e-mail supplying you with a link, a login and a password.
Purchase of our products means acceptance of our General Conditions of Sales.