Pack ASIAN TASTE: WATER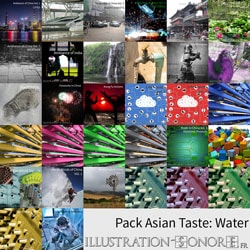 From Musicec Sound Effect Library
Contents: This pack incluses 2 volumes.
- Asian Taste: Water Vol. 1 & 2
More than 3 hours of Asian sounds of water.
Mp3 demo:
Description: This bundle is the very first collection of water and liquid sounds that correspond to Chinese/Asian taste! All are in multiple types and multiple takes. In other existing libraries, water sound is simply physical and lacks in the emotions or colors that are important in Asian sensibility. As water is flowing and moving, there is a space of imagination and feeling. Here, the recordings and post-production evoke these qualities which can enhance documentaries, movies or games. Almost no one has tried to respect this before in a SFX lib. Find that sound here.
Pack Contents
237 files (Wave 96kHz/24bits)
Price (- 30%)
112,00 € HT
Sold separately, these volumes total 160 €. Here, save 48 €.
Get a better Deal: Look at the other Packs and save up to 60% on your purchase.
In order to download, make your payment via Paypal, at receipt, you will receive a confirmation e-mail supplying you with a link, a login and a password.
Purchase of our products means acceptance of our General Conditions of Sales.